As a flurry of smart beta products hit the market and continue to garner attention (since 2013, smart beta assets have grown from $200 billion to more than $600 billion), financial advisors and institutional investors are fielding more and more questions about these strategies. Sorting through the various strategies makes the due diligence process even more critical. 
Our speaking faculty of leading Smart Beta funds and strategists will help investment professionals better understand:
• The methods behind these various strategies
• What are the underlying assumptions
• What's driving returns
• Do these strategies deliver on their promises
• Will these tilts work going forward
• Are these tactical opportunities or long-term investments
• How do these strategies fit into a multi-asset class portfolio
• Will these strategies replace active managers
Sessions at the conference will include:
• Forward-looking Smart Beta trends
• Understanding Factor And Smart Beta in the traditional active context
• The Smart Beta Checklist: Choosing the best strategy & risk/return profile
• Single factor vs. multi-factor approach
• Fixed Income: Balancing income and capital preservation
• Commodities: Is it time to revisit the space?
• Offense or Defense: The road forward for equities
• ESG: Where the opportunities lie in this burgeoning space
• Portfolio Construction: Implementing Smart Beta strategies into a multi-asset class portfolio
To help with your Smart Beta due diligence, we've also made available 
speaker presentations
 and 
video interviews
 from our March 2016 event.
Feel free to register at our early bird rate of $49.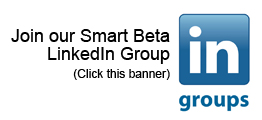 9 CFP CE credits will be available
IMCA® has accepted the program for 9 hours of CE credit towards the CIMA® and CPWA® certifications

---